Wait.  What?  February is over?  I forgot to take a photo three days this month but added a few extras to make up for the ones i missed.  If you're wondering what this is all about, visit January's post.  Happy weekend!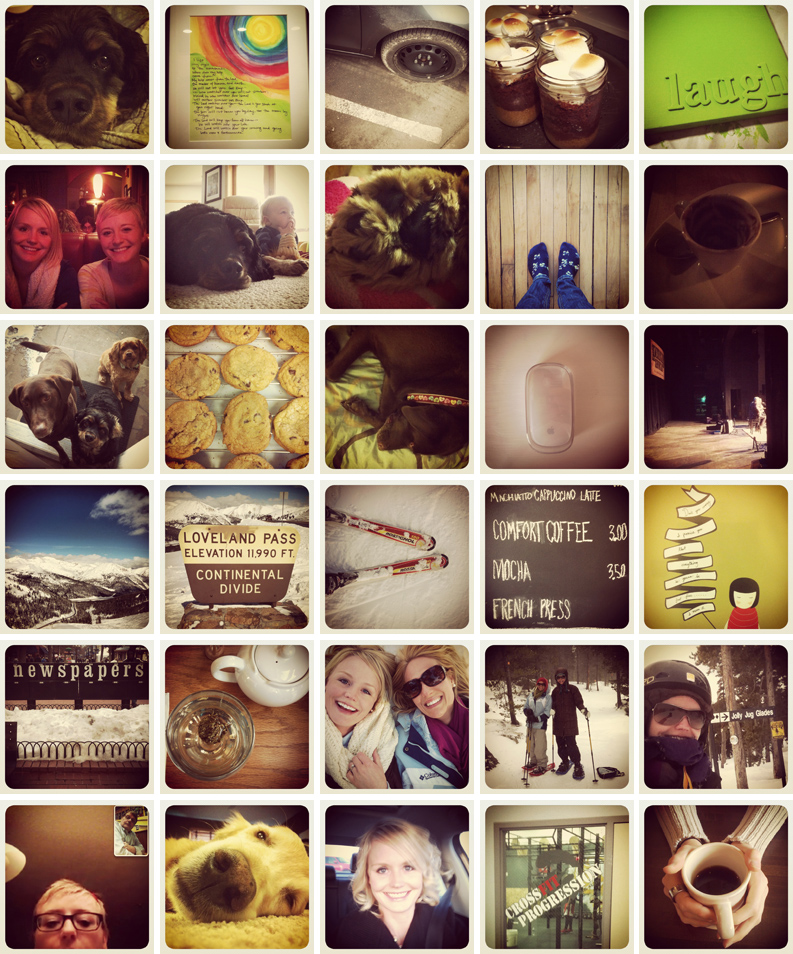 1. Ike.
2. My dear friend Molly made this.  She is awesome.
3. Decided to try out the spare today.  🙁
4. S'mores in a jar.  Yes please.
5. Yes it's true, I prefer crafts over the Superbowl.
6. Quick visit with Erica in Sioux Falls.
7. Hanging out with Kai.
8. I admit it, I'm a crazy dog lady.
9. Fun socks are better than boring socks.
10. Had a shoot in St. Cloud today and met Julia for dinner at Toast.  I think I found my new favorite restaurant.
11. Three dogs.
12. Grandpa's cookies.  54 dozen for the year already.
12-2. Moxy is our only dog for a few days.  Ike stayed in Watertown since we'll be gone for awhile.  Glad she is here while Ike is away!
13. Who needs flowers when there's Apple products?
14. Backstage shooting Americana Showcase.  Bob Wooten, the Dovetailers, and the Sudden Lovelys.
15. OMG.  I never say OMG but OMG.  It's beautiful here.
15.-2.  Loveland Pass.  p.s. I'm glad I have 4 wheel drive.
16.  A first: shoot on skis!
17.  Oops no photo, shooting a wedding today.
18. Boulder Comfort Coffee.  Y.U.M.
18-2.  Cute art in Boulder.
19.  Exploring Pearl Street.
20. At Dushanbe Tea House with a bloom tea.
20-2. At Chautauqua!
21.  Snowshoeing at Sprague Lake in Rocky Mountain National Forest.  Estes Park.
22.  Skiing with Candace and Zack at Eldora.
23. Flew into the cities today, met Dad for dinner at Snuffy's and skyped with Erica.
24. Missing Ike.  Renting Sebastian.
25. Chair Affair.
26.  Oops, no picture.
27.  Oops, no picture.
28. Didn't actually go to Crossfit.  Went next door to kickboxing.
29.  COFFEE.