Ok, so we did the whole house tour but I skipped a very important room!  The nursery!  This was actually the first room that we tackled when we moved in.  Which makes perfect sense since we didn't really even use this room until she was a couple months old!  Ha…oh well, try telling extremely excited first time parents to be logical and get the rest of the house settled first…
As it turns out we could have kept the pink but at the time we didn't know if Clara was a boy or a girl so we decided to to ditch it.  Plus, remember I am on a gray, gray, and more gray kick!?  p.s.  Where did all that STUFF come from?!?!  I never think I have that much until it comes time to move…

Let the painting begins. Even if you couldn't get the best residential painting company philadelphia, get the right color.  Guess what?  Another gray!  This time it's Cape May Cobblestone by Benjamin Moore.  It's darker gray than the rest of the house but I think it's OK.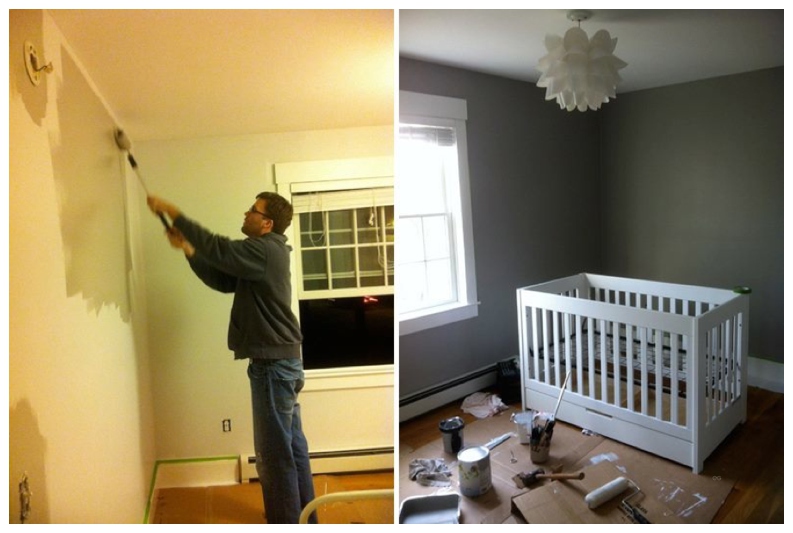 Now it's time for crib and rug placement and dresser assembly! We got the crib from (believe it or not) Walmart.  The bottom drawer originally had a wood finish so I painted it white to match the rest.  After that was assembled, the whole business of having a baby became R.E.A.L.  The rug is a Dwell Studio persimmon and cream draper that I got from Sugar and Spice Decor on a good sale.  The dresser is Hemnes from Ikea.  The dog is of the jealous variety but not for sale.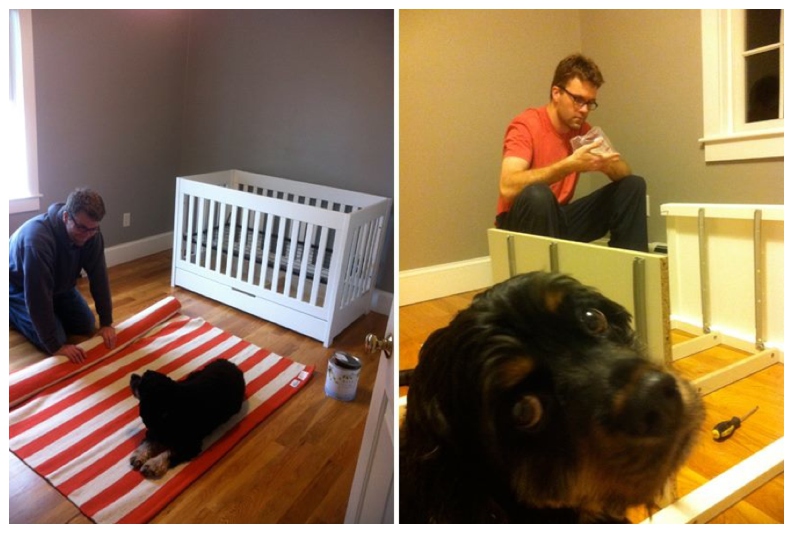 And it's complete!  I ordered the bunting from Etsy.  I figured I could make one but there were so many cute ones there that I took the easy route!


The Dr. Seuss print was a gift from my aunt and uncle from our wedding that is a scene from the book "Did I Ever Tell You How Lucky You Are".  The lamp is one I had since I was kid-it was yucky brass and I painted yellow.  The green square is a plain canvas that I hot glued letters on and painted green.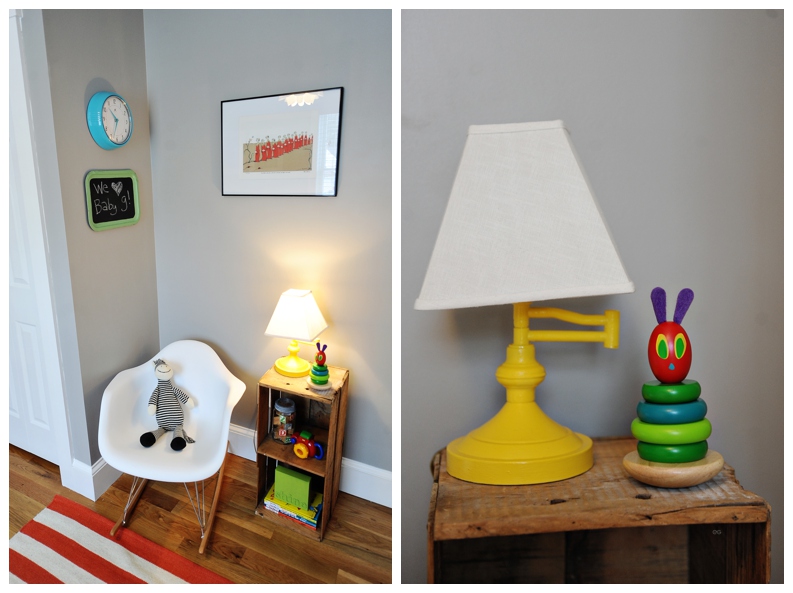 I made the "I love you to the moon and back" prints in Photoshop, printed them at my lab and stuck them in Ikea frames.  And of course, baby's first camera.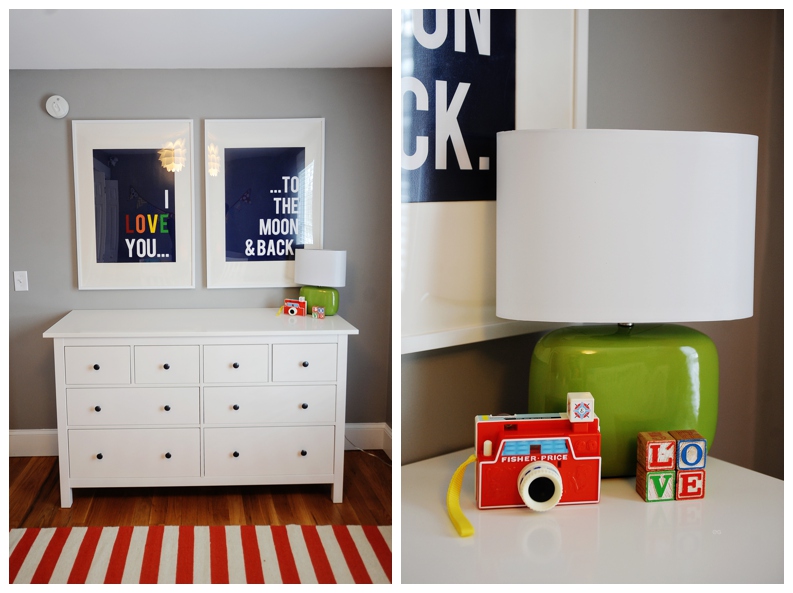 I ordered the colored felted balls from the Fickle Felt Tree on Etsy, grabbed a branch from our yard, tied some twine on top and strung the felt balls with sewing floss.  Oh and I cut out 2 identical hearts from a piece of felt, stuffed it with toilet paper and hand stitched it.  That's as crafty as I get.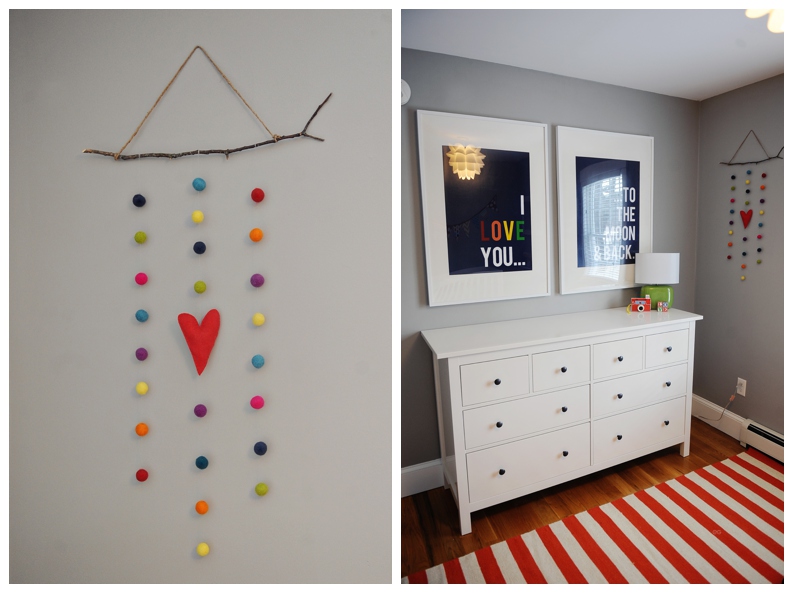 We decided to tweak the closet to accommodate a changing station/storage area.  We (meaning Justin) added the lower shelf and then we (ahem Justin) cut an old bookcase from college in half to fit underneath.  Add some white paint to the shelves and some aqua blue on the walls and call it done!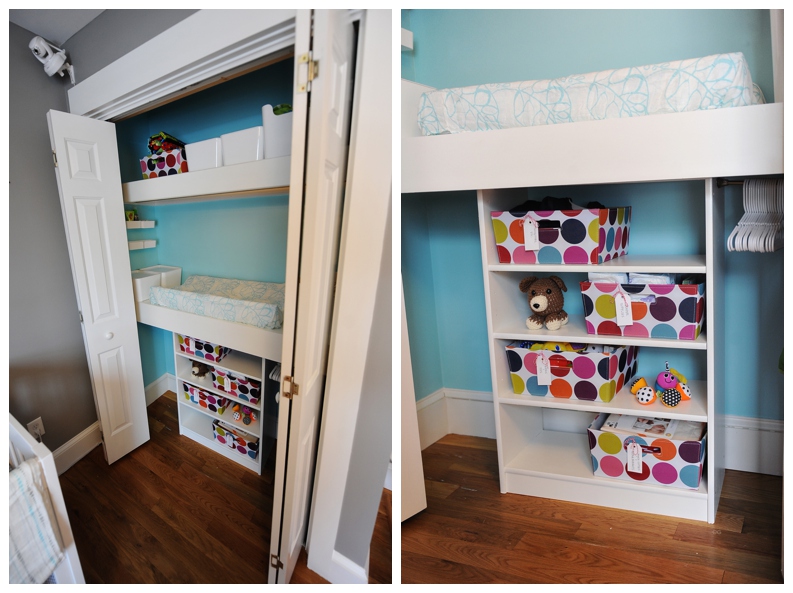 Not the greatest photo but we added the strip of lights (from Ikea) underneath the top shelf which we now found doubles as the perfect night light!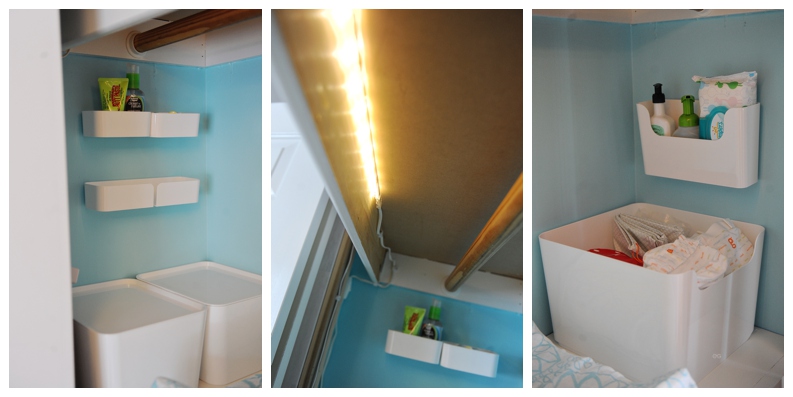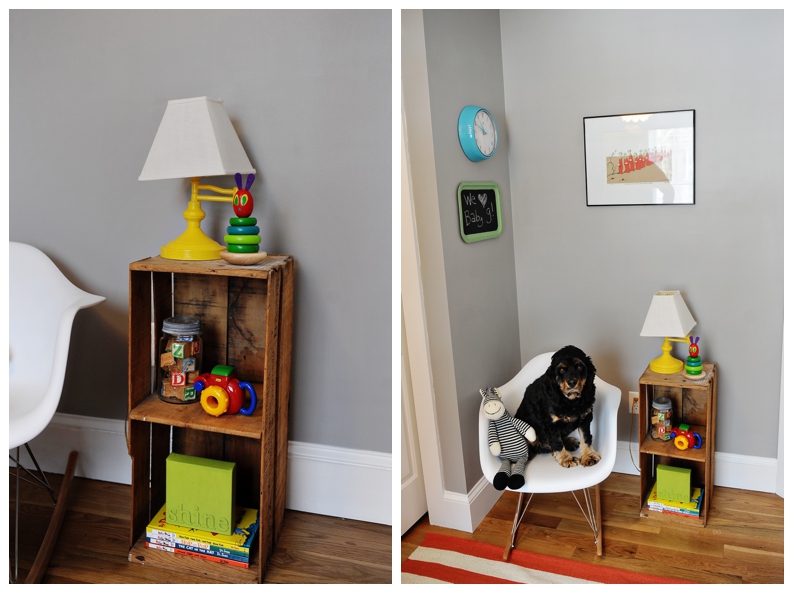 Overall, I wanted to keep things very gender neutral since we didn't find out what we were having but now that we have a baby girl, it feels a little boy-ish to me.  We loved having a surprise and I wouldn't change that for anything but we may have to phase a little pink in as she gets older.  🙂