One of my new year's resolutions was to eliminate the phrase "I can't believe it's __________ already!" Fill in the blank with whatever…. I can't believe it's March already, I can't believe summer is almost over, I can't believe school started already, I can't believe I've been done with college for 9 years (SAY WHAT!??!) already, I can't believe he's 4 years old already, etc, etc, etc. I felt (feel) like time is always slipping by too fast and I knew that as I get older and now have a baby it was just going to get worse. So instead of feeling like I'm always running out of time and not getting around to actually enjoying the present, I wanted to make a resolution to just accept the fact that time goes by fast and there's nothing I can do about it other than simply live in the present and enjoy it. But, can I just say:
"I CAN'T BELIEVE WE'VE LIVED IN PORTLAND FOR A YEAR ALREADY!!!!"
Dang. I broke my resolution AGAIN but geesh, that went fast. I have an obsession with documenting memories so as milsetones roll by, I get nostaligic and revisit what we were doing a year ago. Moving out of my office. Moving out of our house. Saying goodbye. Shooting three consecutive weddings, one in Southern Minnesota, then one in Western South Dakota, then one in Baltimore. Fighting a cold. Moving into a new house. Unpacking. Growing a baby. More and more unpacking. Adjusting to a new city and new everything. Like most things in life, it's been a combination of good and bad. Happy and sad. Challenging and worthwhile. Relief and dissapointment. But above all that, I am thankful. And I'm working on simply enjoying today because I know if I don't, I'll be saying, "I can't believe we've lived in Portland for two years already!!!!"
Portland is a great city and there's MUCH cooler things about it than our house. But getting settled into our house really helped me adjust to thinking of this place as home. Doing laundry would be way more productive but here's the "before" and "after" tour of our house…something I meant to post about 7 or 8 months ago…
Anyway, here's us moving in…October of 2012.  Why the awkward pose?  We started the tradition back in 2006 (see below…)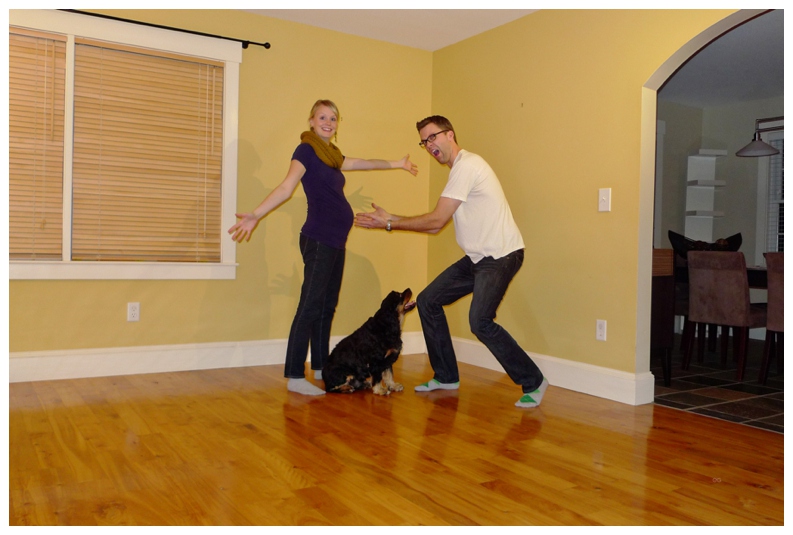 Moving in (on the left) and moving out (on the right) of our first home together.  2006 and 2012.

Let the before and afters begin!  Here is the living room before.  Moving in chaos and YELLOW!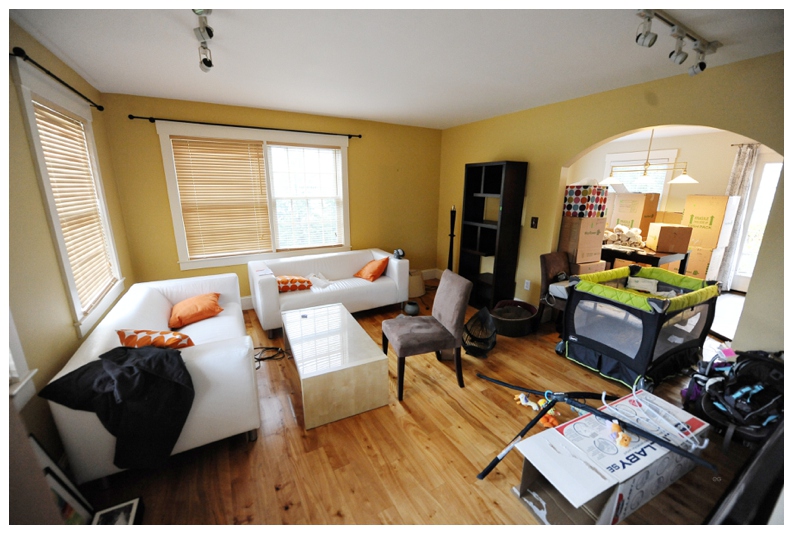 And after.  The paint color is Horizon by Benjamin Moore.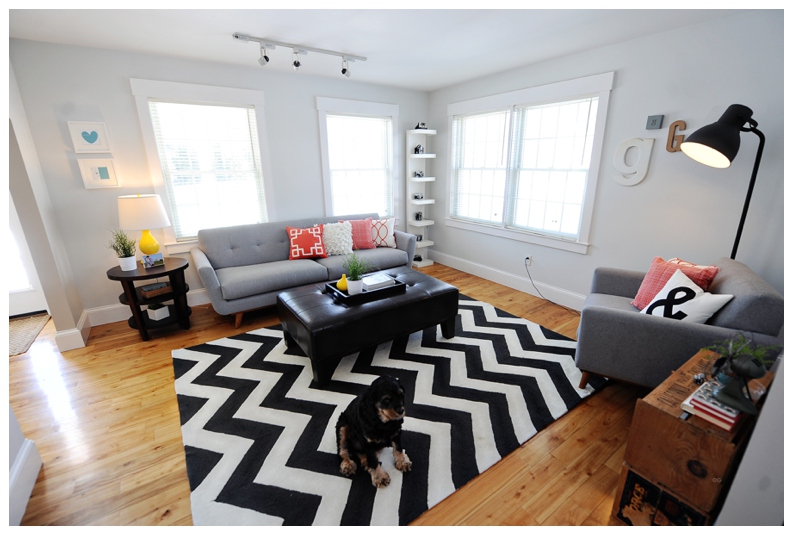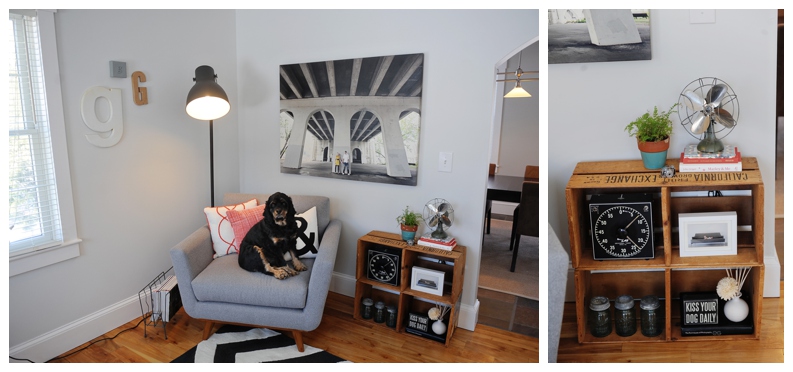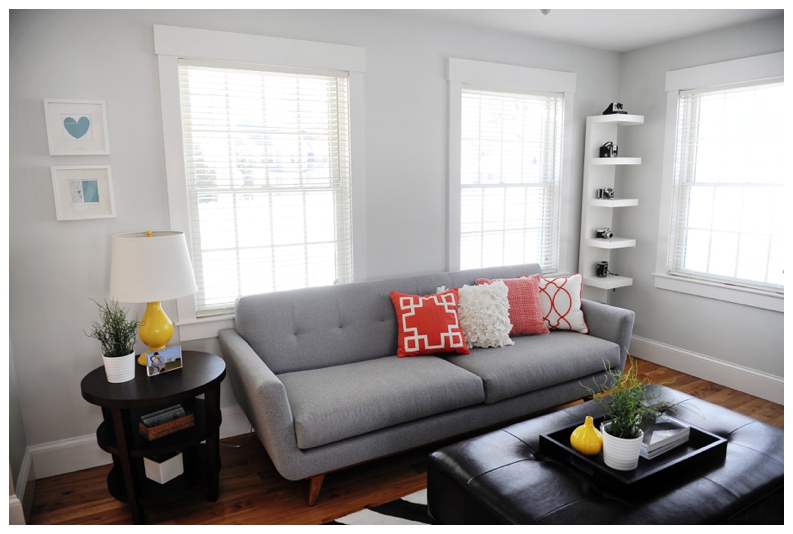 The camera shelf is now officially baby proofed and bolted to the wall.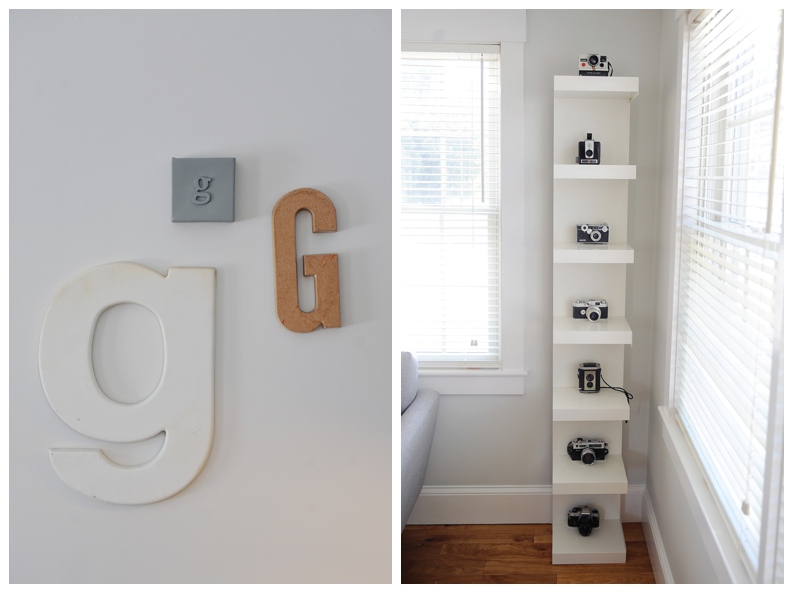 I found the (Pottery Barn!) lamp at Goodwill for $3.99 and painted it yellow.  The prints on the right I made in Photoshop and ordered from my lab.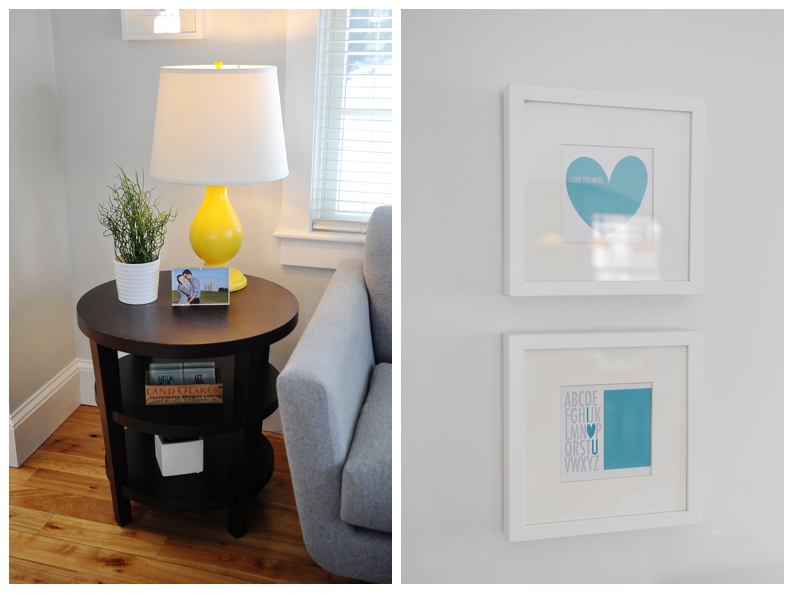 Kitchen before: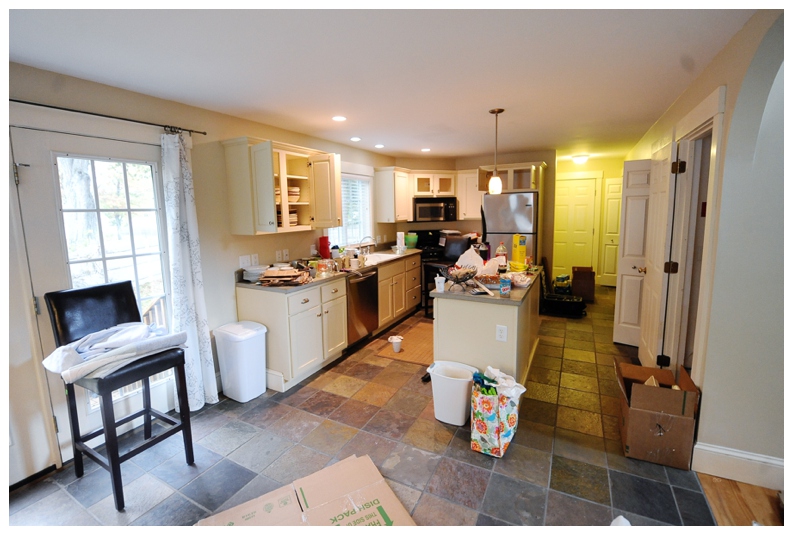 The new wall color is Benjamin Moore Revere Pewter (which I LOVE) and used throughout the kitchen, entry hallway, stairwell and upstairs hall.  We also repainted a good majority of the trim as the previous owners had a mixture of white and off white trim which drove me batty.  The cabinets were also a weird cream/off white/butter color so we painted the base cabinets and had the doors sprayed.  Ahhh, I'm a fan of the white cabinets.  All the trim is Benjamin Moore Simply White.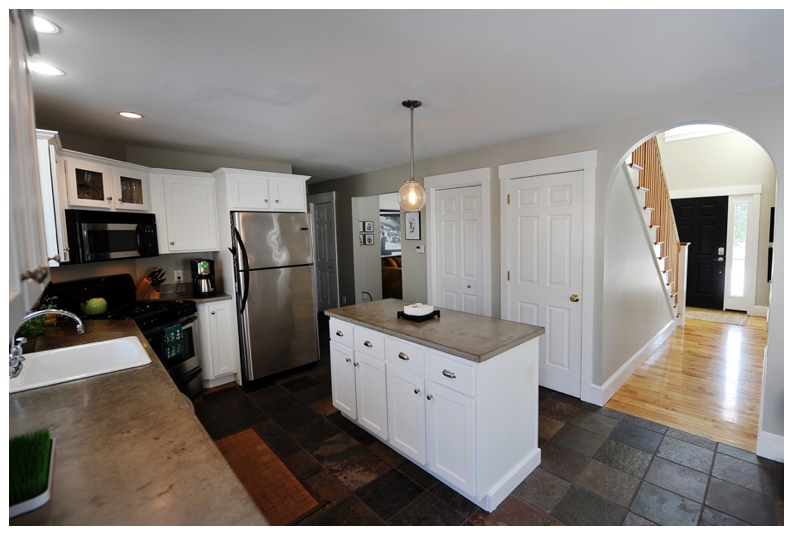 I missed my light fixture from my office so much so we removed the old pendant shade above the island and took the existing pendant to a local lighting store.  They reworked it to fit the clear glass shade and we added an Edison bulb.  Not the greatest photo of it but I love the modern feel it brings.  Same with the concrete counter tops.  They were here when we moved in but I really do like them!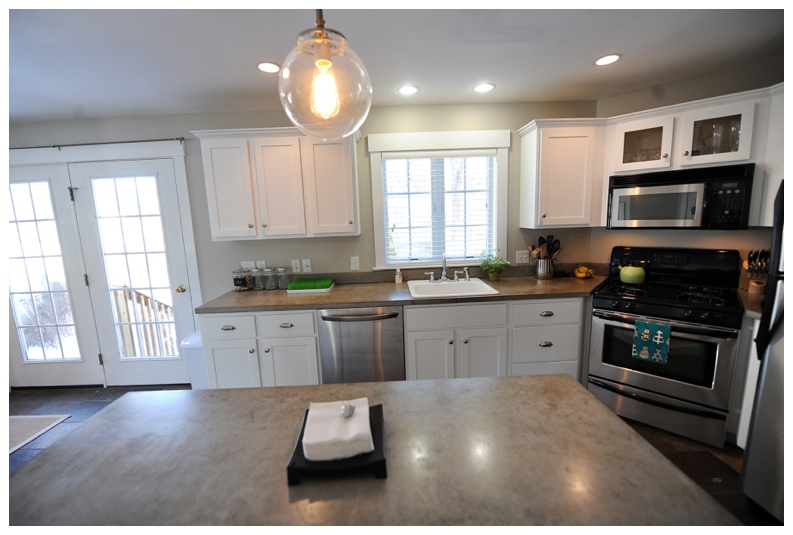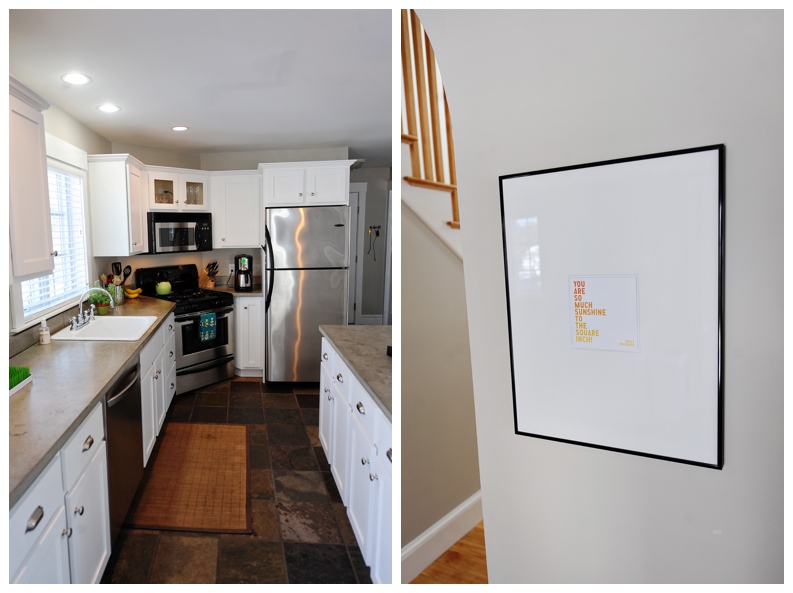 Dining room before: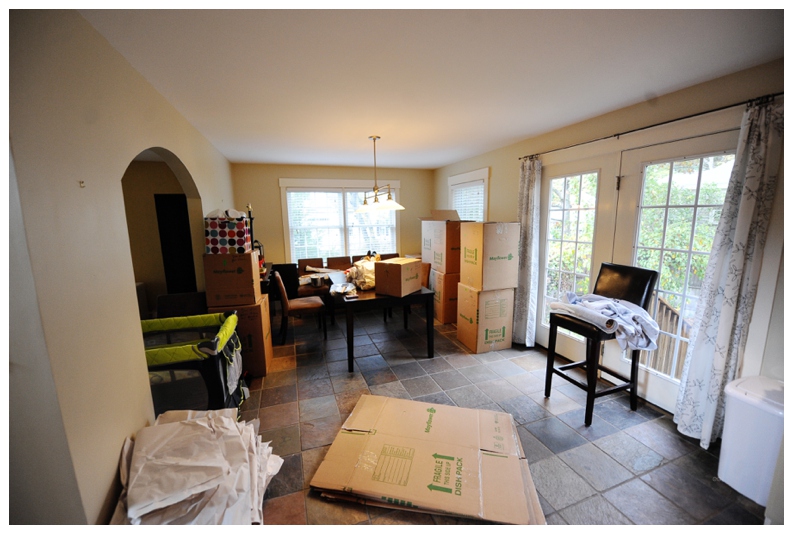 And after!  Our instagram collages in the frames on the right.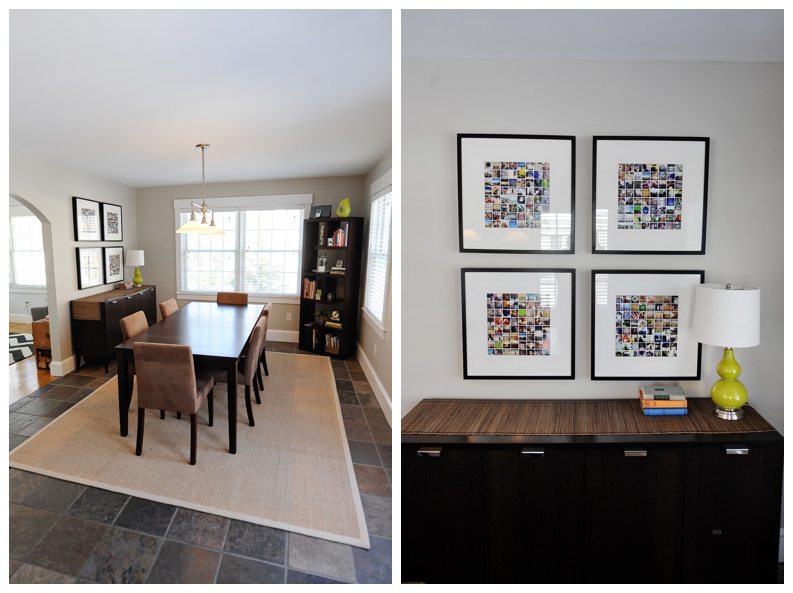 The very blue half bath on the main level before: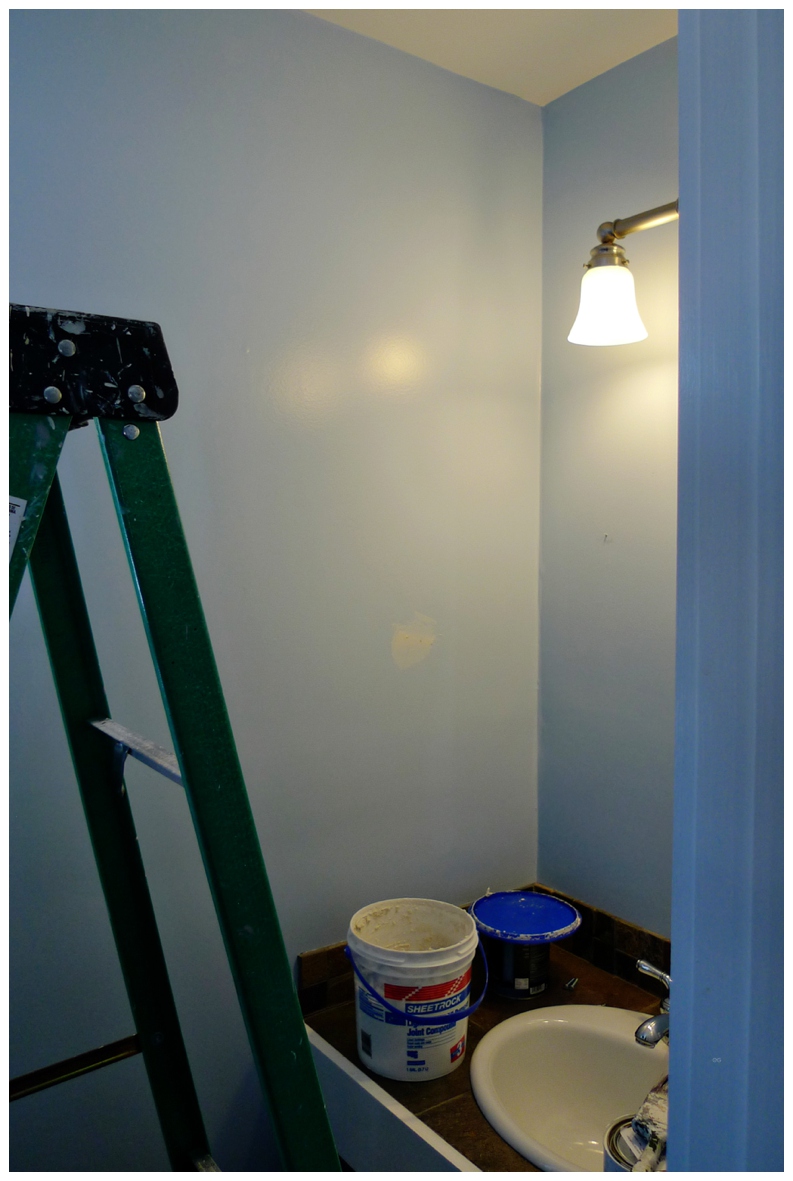 Our house in Minnesota was very brown/tan/rusty red/orange which I liked at the time but by the time we moved out, I was way over it.  And in this house I am very much into the gray with white trim EVERYWHERE.  Justin thinks it feels a little like Russia with all the gray so I went for some COLOR in this room.  It's Plumage by Benjamin Moore…sort of a peacock/teal/blue-y/green.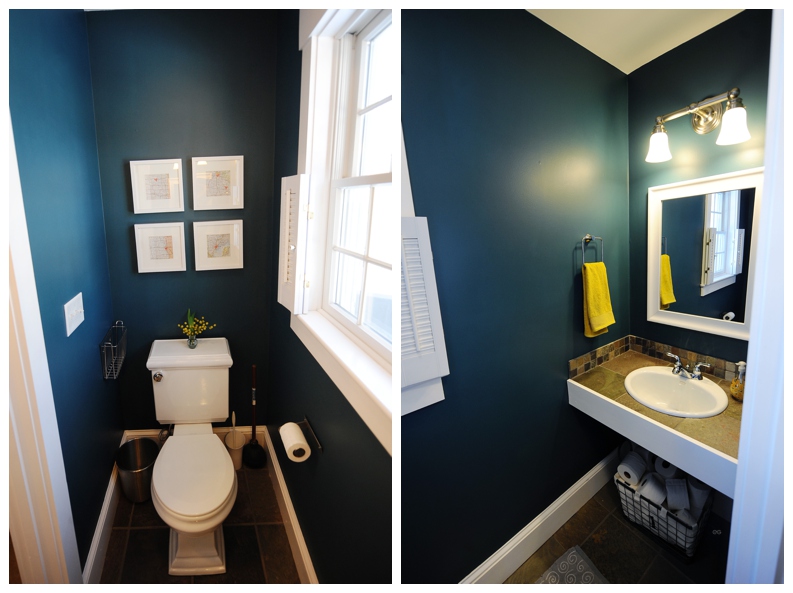 And of course my maps to remind us of all the places we've lived and loved.

Entry way organization.  Thank you nesting instinct.  🙂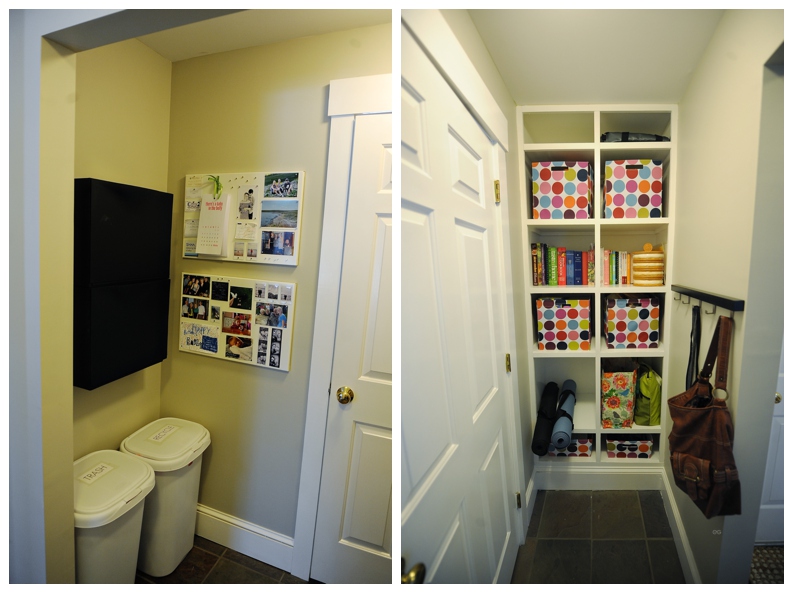 This house is weird in the sense that it has two living rooms very close to one another.  This is dubbed the "TV room".  Before: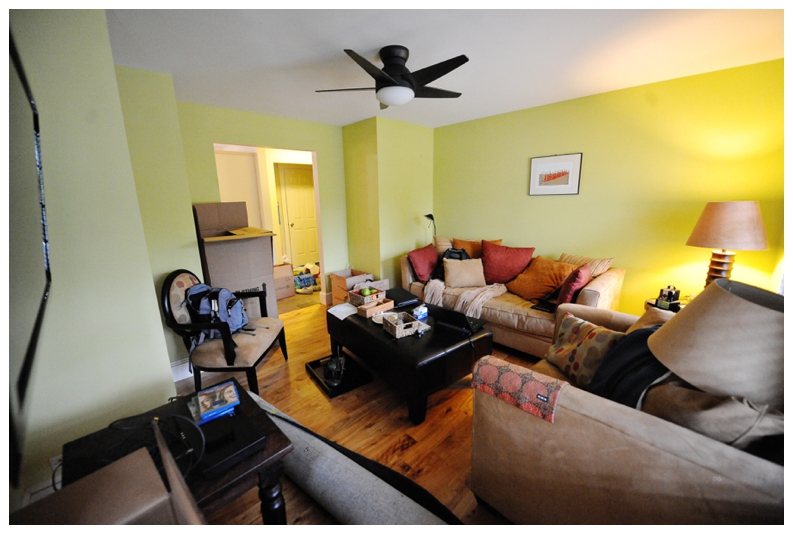 And after.  The walls are Edgecomb Gray.  This is our furniture from our house in MN and so we needed a more brown/tan-ish color for the walls that wouldn't clash with the Russia gray of the rest of the house.  I don't LOVE Edgecomb Gray as a color but think it was perfect for this situation.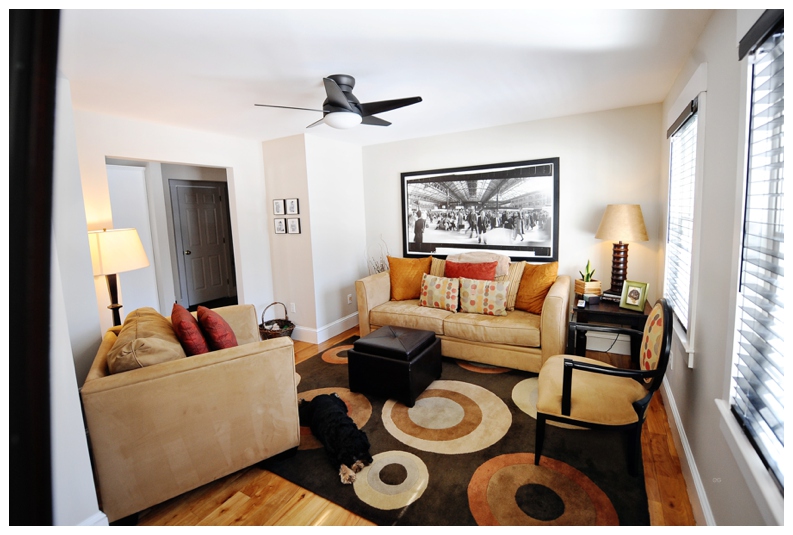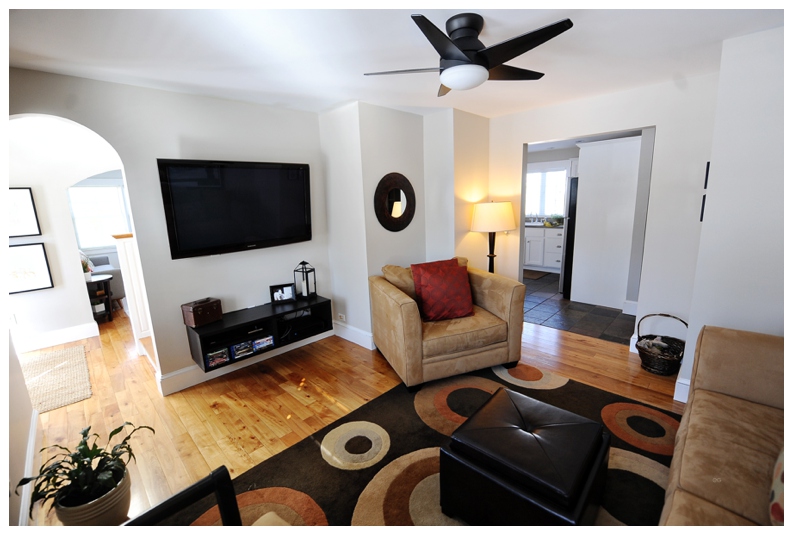 Stairwell before: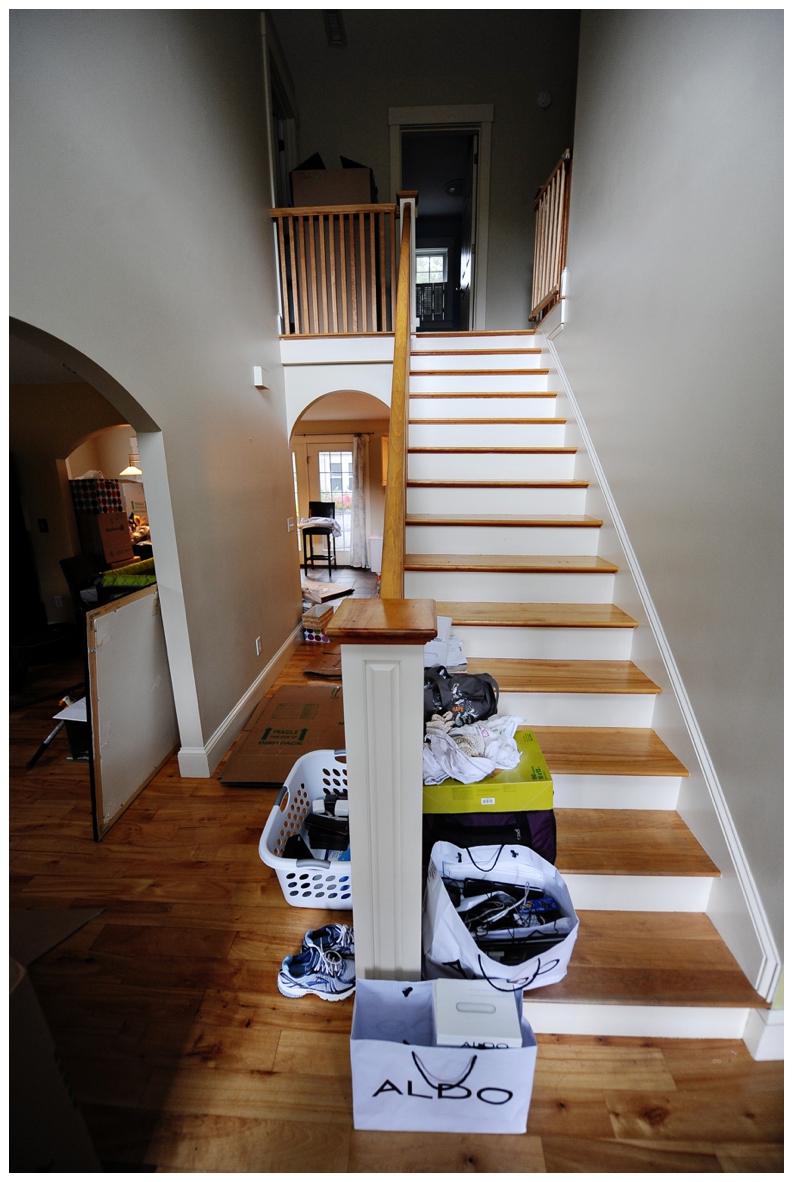 Stairwell after:

Master bedroom before:


And after.  I love the light and airy feeling of this room (Benjamin Moore Horizon again).  But really, Emily?  A white comforter with a black dog and a new baby?  Brilliant.  🙂  Also, those frames initially were waiting for pictures of the baby.  But new mom anxiety set in and they are currently sitting on the floor in the office because I was having nightmares of them falling off the wall while holding a baby in bed.  So we'll be exploring "safer" options for decorations above the bed.  🙂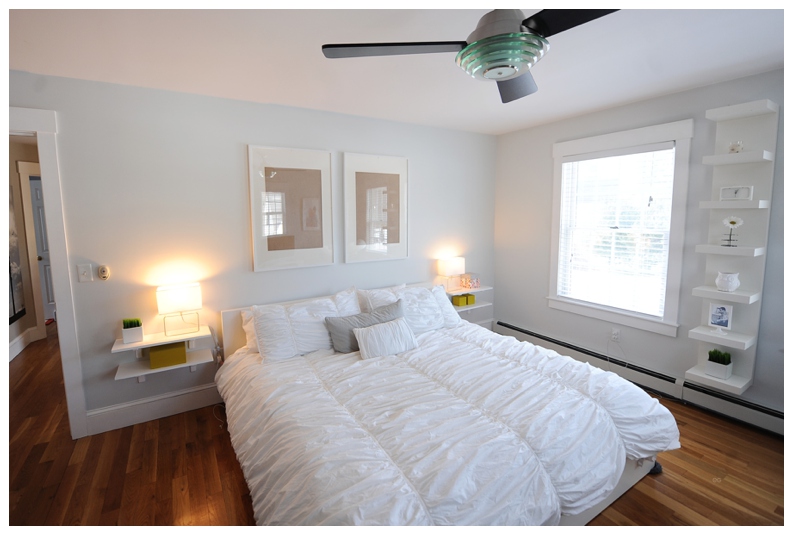 Add a pack and play and a bunch of baby stuff everywhere along with an unmade bed and that's what this room now looks like.  And I wouldn't change it for the world.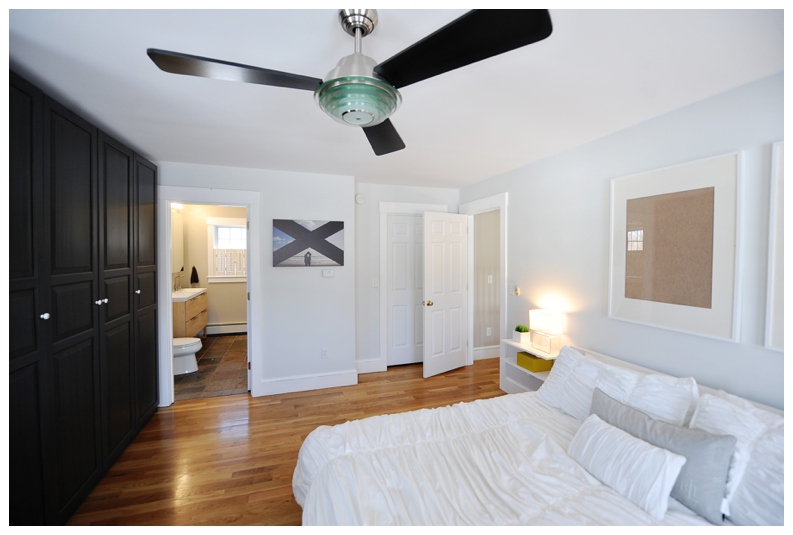 Master Bath…Revere Pewter.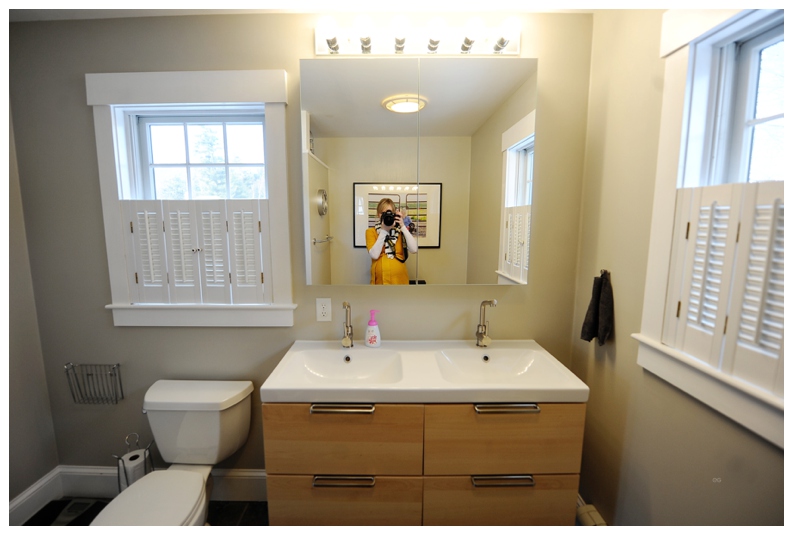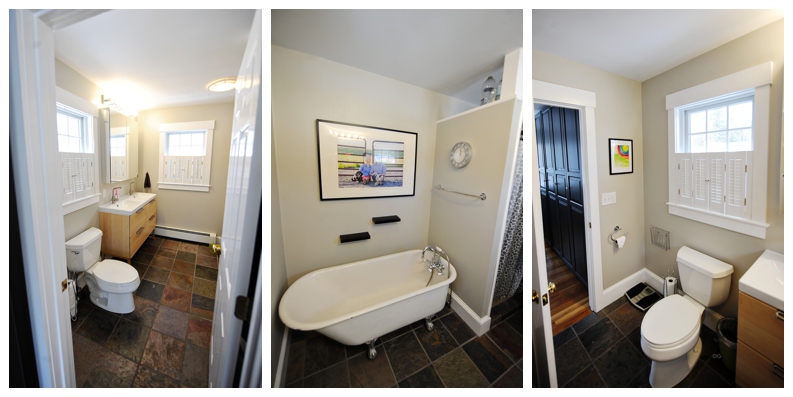 Second bedroom before: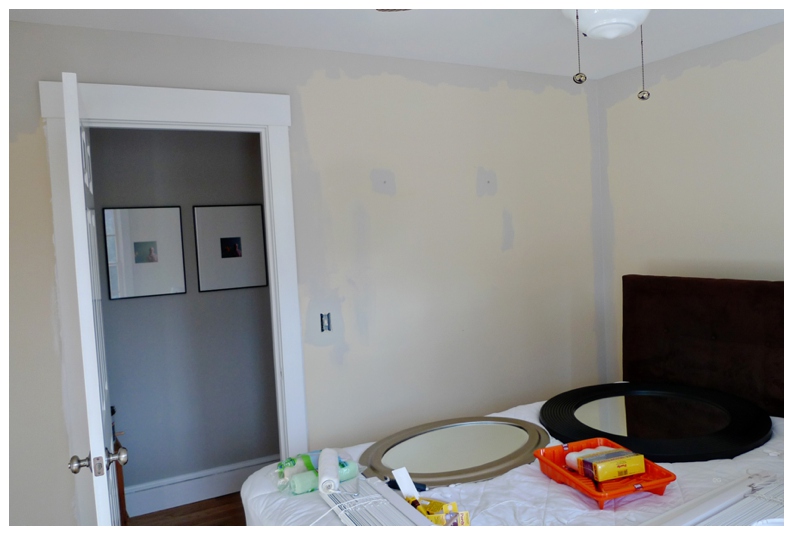 And after.  Edgecomb Gray in here too because we had so much leftover.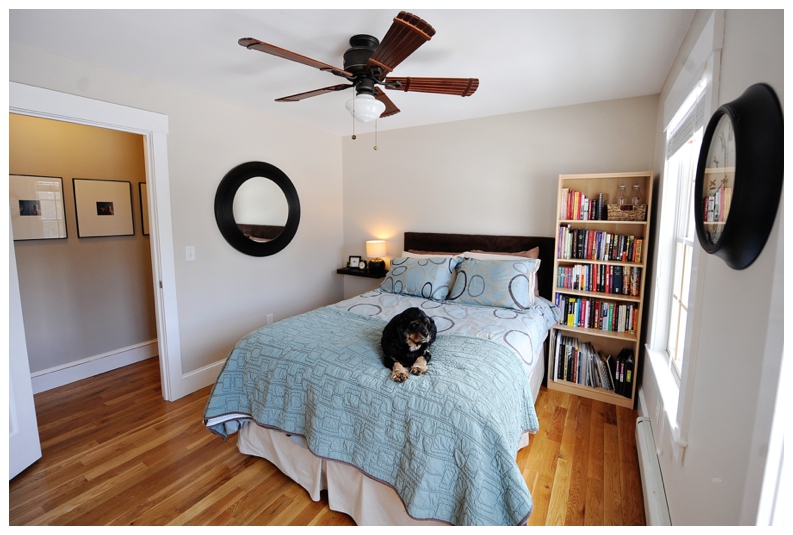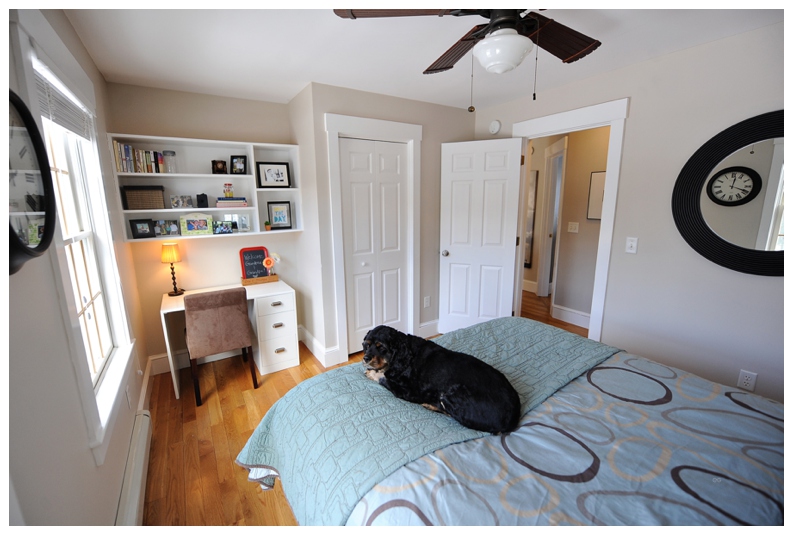 Second blue bathroom before: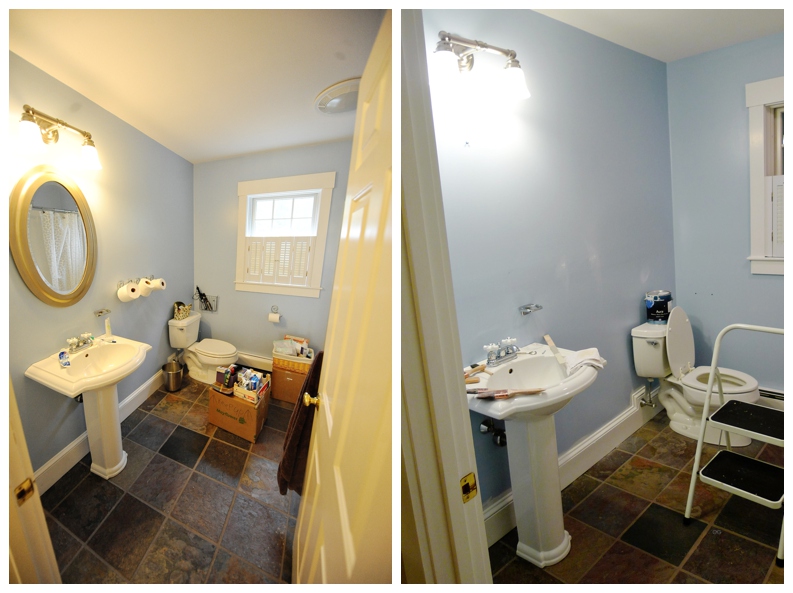 And after.  Benjamin Moore Horizon again because we had so much leftover.  If I would have been thinking clearer, I would have switched the master bath and this bathroom colors because we have Horizon in the master bedroom and it probably makes more sense to have the master bedroom and bath the same but OH WELL!  Ultimately, all the colors we chose flow pretty well so it doesn't really matter except to me who tends to obsess a little lot too much over this type of thing…  🙂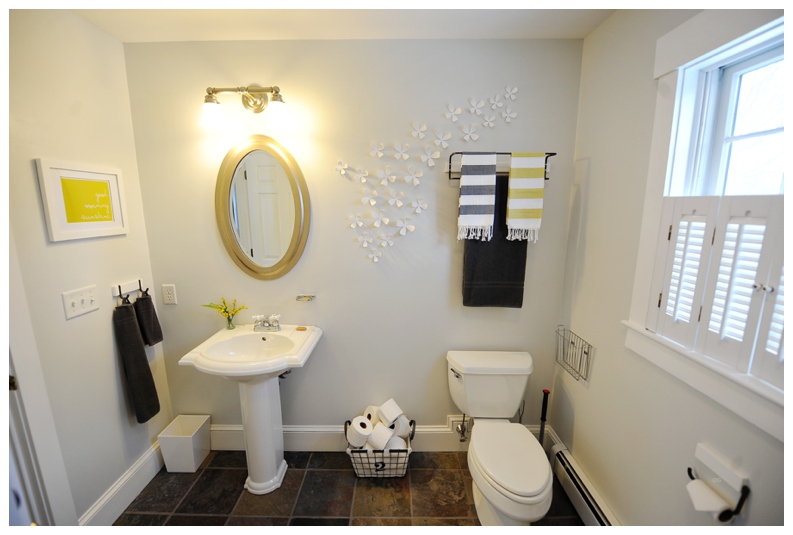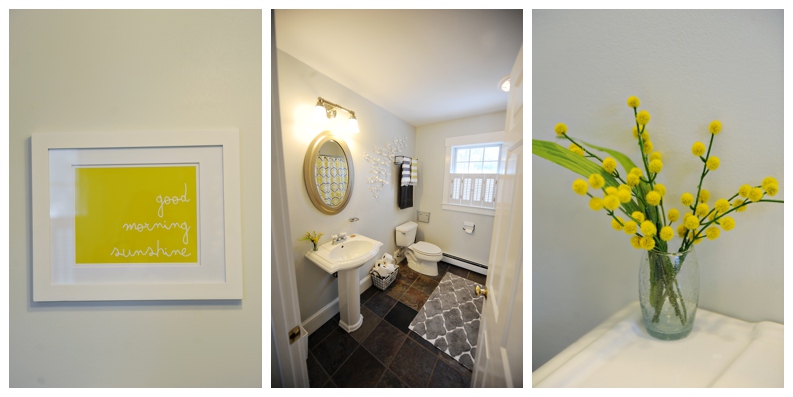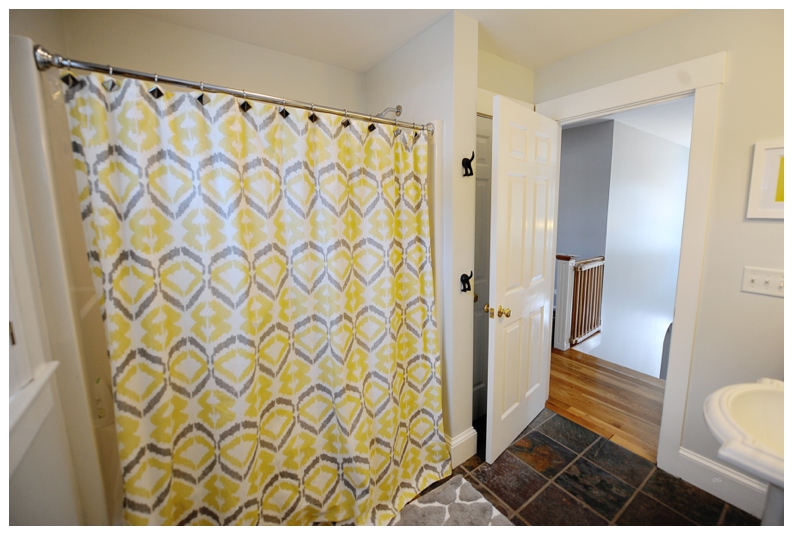 Wow, are you still here for all that?  Thanks for indulging my want to be DIY/home renovator self!  Happy Monday!